Laika and I were at it again, heading for another night in the wilderness. This time, we were in the Holy Cross wilderness, just west of Vail. I didn't really think about heading out until some Friday meetings were cancelled at the last minute, so I had very little time to plan. I picked a trail that Lara and I hiked with some friends nearly twenty years ago. The Fall Creek trail follows the creek up to a pass, with several lakes, ponds and waterfalls along the way.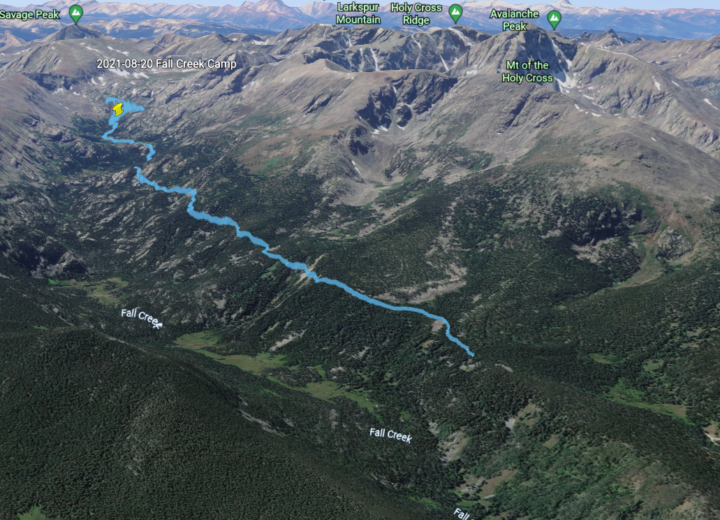 The hike is about 5 miles. It passes Lake Constantine, a popular larger lake about 3.5 miles into the wilderness. We saw at least 4 camp sites in use around the lake when we passed by on Friday afternoon. We kept going, with the thought of camping near Tuhare Lake. As we approached, it was apparent that the lake was not well situated for views. We bushwhacked around a couple of ponds trying to find the best location, and finally settled on a spot near a smaller pond tucked out of the way.
There are still no fires allowed in the area. I made my delicious freeze dried dinner (chili mac!). After the sun went down, it got surprisingly cold. The wind started whipping up, so Laika and I decided to head to the shelter of our tent to warm up. The wind howled most of the night, but didn't amount to much.
We woke before sun-up to scout for some photographic gems. Nothing really worked out the way I hoped, but I still landed a few keepers. Once the sun was up, I decided to hike further up the trail to see what we could see. We climbed another 500-600 feet up a steep cliff, and dropped down into a basin before yet another steep climb up to Fall Creek Pass. I decided to stop short of the pass and head back down before it got too late in the day.
On the hike out, we must have passed 60 people headed up the trail. Most of them were headed to Lake Constantine. If you do camp this location, be sure to go past the lake and head up the cliff. You'll find better scenery, and much more peace and quiet!
We made it to our car just as it started to rain. The trailhead was an absolute zoo. I no sooner made it to the parking lot than one of the space vultures asked me if I was leaving. Three cars piled up behind them hoping they could all have my spot. Cars lined the road for a good half mile outside of the parking lot. Most of them were using the other trail to get to the top of 14,005 foot Mount Holy Cross. It helps to have a "fourteener" on a separate trail nearby – it's sure to pull most of the people away.