I had taken the entire week off planning an extended camping trip with Evan into the Maroon Bells. After that trip was cut short due to rain, I decided to take advantage of another weeknight to head back out into the wilderness on my own. I targeted another hugely popular location, the Eagle's Nest just north of Vail.
After some research, I settled on the Bighorn trail. This was a unique experience for a wilderness backpacking trip. The trailhead is just yards away from I70, and right on the edge of East Vail. You can see the town and hear trucks racing along the interstate for the first half mile or so up the trail. Then it all falls away and you're deep into the wilderness.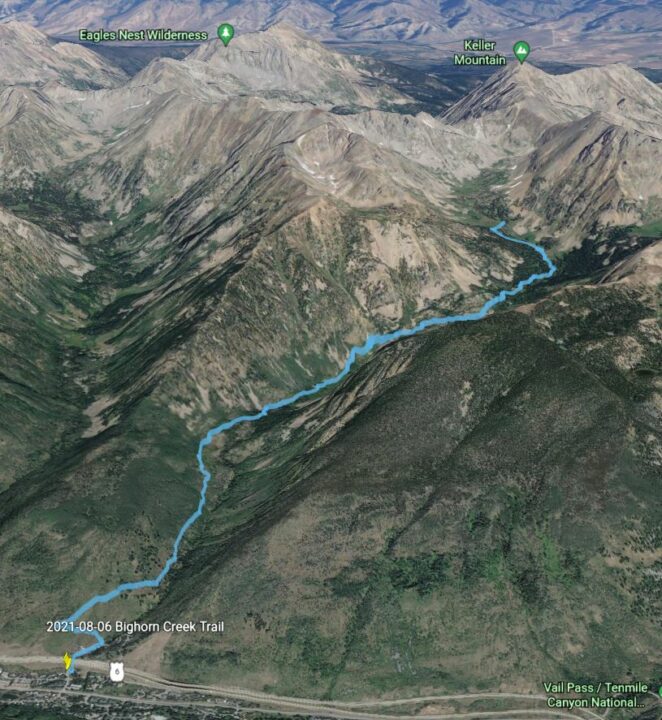 I chose this particular trail because it is less popular than the other trails departing directly from the city, and because there is a cabin located near the top of the trail. I've enjoyed taking pictures of isolated cabins in the mountains, and was hoping for another photo for my collection. Plus, I knew Alex would be interested since the cabin was built on a private mining claim within the wilderness. He was hoping I'd come back with a pocket full of gold.
The trail was more crowded than one would think for a Thursday morning. I passed at least 10 groups on my way up. It's a steep hike climbing up out of the Vail valley. In a couple of stretches, it seems like you're climbing 50 flights of stairs at a stretch. All in all, it was about a 2500 foot climb over a 4.5 mile hike.
My target was a meadow about a half-mile beyond the cabin just about at the treeline at 11,000 feet. I totally lucked out. No one else was headed past the cabin (according to the map, the trail ends there). Plus, I spotted a previously used campsite a couple hundred yards off the trail in an excellent location.
I had plenty of time to set up camp, this time with zero rain and pleasant temperatures. I was also able to scout out a few photo locations for sunset and even a shot at the Milky Way, which I wasn't expecting. There was once again a fair amount of haze due to the smoke from the wildfires out west, but it seemed to clear up just enough to afford decent views of the stars. It was also early in the Perseid meteor shower, and I got to see a handful of shooting stars to boot.
After a few sunrise photos, followed by breakfast, I packed up camp and headed back down the trail. Strangely enough, I only ran into two other groups of hikers, and those were just within a mile or so of the trailhead. It was a very peaceful walk down the valley, lined with wildflowers, cascades along the creek, and plenty of mountain views.