It's the last week before school, and the first opportunity I've had to take some time away from work this summer. Evan has been asking to get away on a longer backpacking trip, so we set out for Snowmass Lake in the Maroon Bells wilderness.
Maroon Bells is one of the most popular and heavily trafficked wilderness spots in Colorado. It's a gorgeous area, with several 14,000 foot peaks, and it's proximity to Aspen means that there is no shortage of tourists looking for a nature hike. I thought that a mid-week trip would solve that problem. As it turns out, I don't think there is a quiet day in the Maroon Bells.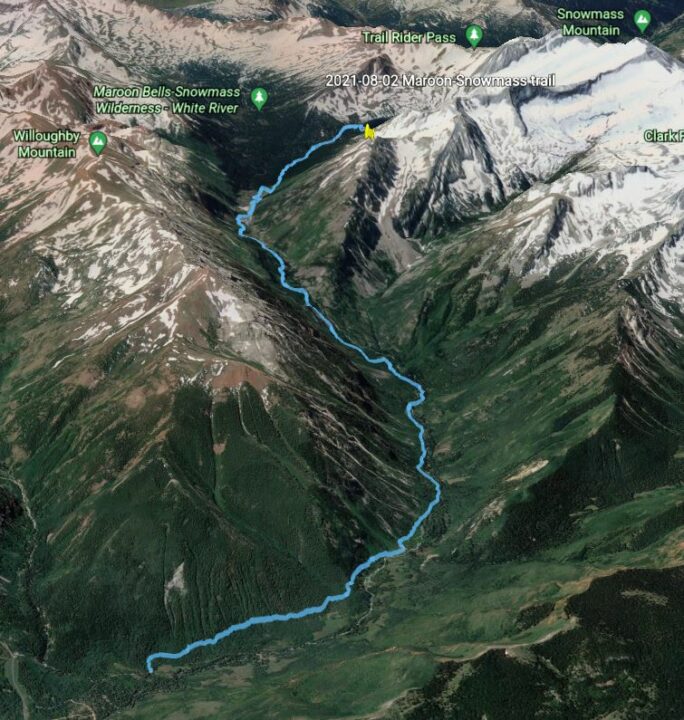 We set out from the West Snowmass Creek trailhead, intending to complete a loop through Snowmass Lake, over Willow Pass to Willow Lake, then back down the East Snowmass drainage. The first leg was 8-9 miles up. As soon as we hit the trail, the drizzle set in. Clearly the area had been getting it's share of rain. We were slogging through mud much of the way. The new precipitation didn't cause much trouble for much of the hike. It actually just helped keep us cool.
Then the hard stuff started coming down. We put on our rain gear, and continued the climb. When we finally reached the lake, we were ready to dry out. Fortune seemed to be smiling on us, as the rain stopped just as we approached the lake. Unfortunately, nearly all of the good camp sites were already occupied – even on a Monday night!
We tracked down a spot we could pitch out tent, and just as we started setting it up, the skies opened up again. We scrambled, but couldn't avoid getting the tent and some of our bedding wet. Luckily it wasn't bad. We were actually pretty comfortable during the night, but in the morning, Evan didn't want to take any more chances on another day of being soaked. We scrapped the idea of the loop, and made our way back down the creek to get home and dry out. We'll have to try the loop again sometime.