Evan wanted to go backpacking, so we broke our longstanding tradition of avoiding the mountains on holiday weekends. We got up early to head for a spot that I expected to be more remote, and therefore less crowded. On a holiday weekend, that's a tall order. We chose a spot in the South San Juans wilderness area, southeast of Alamosa, called the Three Forks Trail.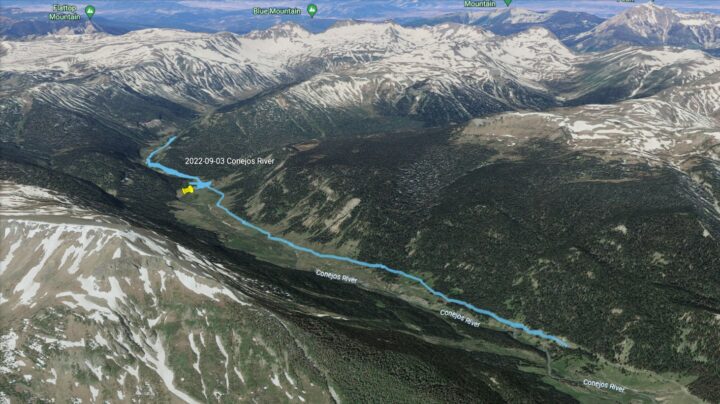 This looked like a reasonably easy trail up to a waterfall that was perhaps 4 miles in from the trailhead. From there, we would have a choice of whether to continue a loop up over the continental divide and back down another river to our car, or to turn back around the way we came. Unfortunately, Mother Nature intervened again, and we were caught up in some pretty heavy rain. We even had to duck under a clump of trees for a while to avoid a hail storm.
We decided it just wasn't going to happen, so we turned around and started making our way down the muddy trail to our car. About half way back, the clouds opened up and the rain came out. It felt like it was turning into a beautiful evening, so we set up the tent and hunkered down for the night. Then the rain started up again…
We each took a few photos, but were pretty limited by the weather. We didn't make it far enough up the valley to see the divide. I'm sure it is very pretty. We'll have to come back.